The Hit List (various artists)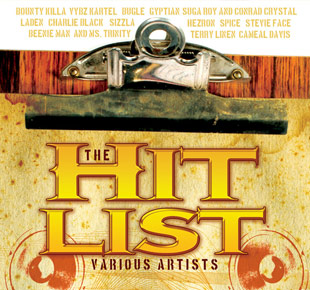 $12.99
Use Paypal and get free shipping

1. I Wanna Wake Up With You - Stevie Face
2. Back To Atlanta - Terry Linen
3. Spotlight - Cameal Davis
4. So In Love - Hezron
5.Jah Jah See Dem - Gyptian Suga Roy, & Conrad Crystal 6. What I Have Done To You - Bugle
7. Life Sweet - Vybz Kartel
8. Rich This Year - Charly Black
9. Time To Shine - Laden
10. This Means Money - Konshens
11. They Don¹t Know (Bawlin) - Bounty Killer
12. Last Man Standing - Vybz Kartel
13. When Work Is Done - Serani
14. Really Like You - Laden
15. Romping Shop - Vybz Kartel & Spice
16. Bubble - Charly Black
17. Bend Ova- RDX
18. Burnin¹ Burnin - Beenie Man & Ms. Triniti
19. Daggera - Spice
20. Ghetto Anthem - Konshens
21. Standing Soldier- Demarco
22. Question - Sizzla

The latest in a series of compilation CDs which list Tad A Dawkins as executive producer, The Hit List is a 22-song offering with quite a number of reggae's biggest tunes.
Sample The Hit List
The Hit List now available in stores and digital download
This Mega complilation is now available in Stores everywhere. The digital version is also available at all digital locations: itunes, junodownload, rapsody, walmart, napster, emusic and many more
The 22-track CD features some heavyweights such as Bounty Killer, Serani,Vybz Kartel, Sizzla and Terry Linen. Hit List also features Jamaica's top 3 upcoming artists Laden,Konshens and Charley Blacks. In addition to that it also features two acts that are being touted as the new years top finds Hezron and Cameal Davis.