News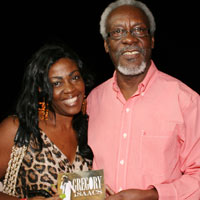 June Isaacs, the widow of Gregory Isaacs, QQ recording artiste the youth ambassador of the Gregory Isaacs Foundation, and spokes person for the anti drug campaign, which is highlighted throughout our schools by the National Council on Drug Abuse presents the LOVE BOX, 4 disc cd to former Prime Minister Hon. P.J. Patterson.
The box set features some of the best love songs from the catalog of the Cool Ruler, was recently released by Tads International Records.
[Steve James photograph]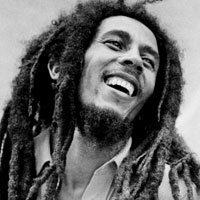 KINGSTON, JAMAICA –Bob Marley University officially opened last weekend. Already it's being called "The Harvard of the Caribbean. An elite University has opened in Jamaica dedicated the world's greatest reggae singer, composer and humanitarian – Bob Marley. The University was founded by Bob Marley's family in association with Chris Blackwell – the former President of Island Records – who was integral to bringing Bob Marley's music to the world.

The University will be complete – with a medical school, law school, business school and an arts institute. The school will also have a top-flight soccer team (The Wailing Wailers) and has become recruiting players from across Latin America to attend the school. Bob Marley loved the sport.

Matthew Engeman of Mahwah, New Jersey is the first President of the student body, which number 2,000 students in the first year. "Bob Marley University was my first choice. His music and message are integrated into the curriculum and the professors are all very easy-going and calm."

Engeman is majoring in Trampolines and Chicken-scratch Guitar. Students can design their major. "We feel that our students can create their own majors. We want them all to be jammin' on their majors. As long as they focus on the three Rs – Roots, Rock, Reggae."

"No problem" is the motto of Bob Marley University.

The school is not affiliated with Rastafarism, or any other religion. "We accept all people. One World, One Love. Jah, Rastafari," said school President, Devante Odani.

Applications for next year's class are skyrocketing. There are already 25,000 applications for 500 spots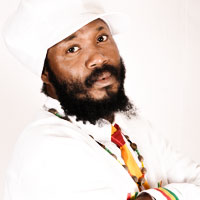 Four albums in ten years - measured against Jamaican standards, Warrior King's output seems rather sparse. Warrior King built his good reputation with quality, not quantity. His debut album Virtous Woman (2001) earned him critical acclaim and drew international attention. Hold The Faith and Love Is In The Air followed in 2005 and 2009. King's fourth studio album is called Tell Me How Me Sound.
King worked on that project for two years together with Colin 'Bulby' York. This award-winning engineer and producer has worked with a lot of well-established names in pop music, including Madonna, Rihanna and Britney Spears, as well as with reggae legends such as Jimmy Cliff, Beres Hammond and Shabba Ranks. It is the first project Warrior King releases on Tad Records.
Let us tell Warrior King how he sounds! Tell Me How Me Sound is 19 tunes mostly of solid roots to modern roots reggae. This is no surprise to Warrior King's fans, neither are the prevailing of love lyrics and conscious praise tunes. King chose a good list of more foundation-oriented riddims produced by Steely & Clevie, Sly & Robbie, his own Rootz Warrior and Colin York's Fat Eyes Productions. The latter are responsible for Melody, this album's only tune that had been released as a single previously. As well-received as it was, it ranks among the weaker tunes here.
Quite a few tunes offer more well-written lyrics and riddims that are both more interesting as well as more captivating. Like Empress, the opener. Or the wonderful lovers anthem Wanna Give You Love - Warrior King at his best. Or I'm In Love With You with its laid-back, soul-soothing bassline. Same with Love Is In The Air, a sweet combination with Neo-Sullan Smith. The only other combination on Tell Me How Me Sound is with no other than Barrington Levy. This rather unexpected collaboration is called I Can See It, recorded on an easy classical dancehall riddim with a pounding bass. Musically the closest to recent Jamaican dancehall is Wanting You, adding some variety to this album without seeming alien in Tell Me How Me Sound's roots context.
Tell Me How Me Sound is very solid works. While some tunes could have profited from more sophisticated lyrics, the album's only real problem is that it is mostly free of surprises. So you get what you are used to from Warrior King: respectable roots reggae for home listening, best enjoyed with your lover.
source
reggaeville.com