Diamond Series Blue - George Nooks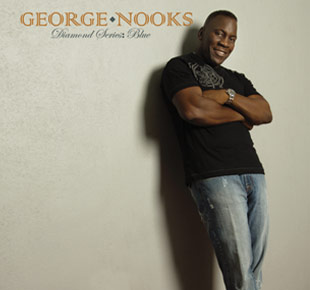 $18.99
Use Paypal and get free shipping

DISK ONE
1. Bridge Over Troubled Water 4:09
2. I Can't Stop Loving You 3:58
3. God Is Standing By 4:11
4. One Time Daughter feat. (Prince Mohammed) J.C. Lodge 3:07
5. Hero 3:26
6. Make It Easy On Yourself 3:18
7. Rest Your Love On Me 3:29
8. Cool Cool Running's [12" Cut] (Prince Mohammed) feat. Dennis Brown 3:32
9. The Way You Are 3:20
10. Love Lifted Me 3:49
11. General 3:50
12. Perfect World 2:56
13. Man Next Door 3:28
14. The Last Time 3:10
15. Homely Girl 3:46
16. Tribal War 3:08
17. Zion Gate (Prince Mohammed) 3:23
18. 40 Leg 3:30
19. So Much Love 3:29
20. God Is Always There 3:30
21. Love In Time 3:29
22. My Children 3:19
23. Girlfriend 3:14
DISK TWO
1. Lean On Me 3:08
2. How Great Thou Art 3:04
3. Bubbling Love
(Prince Mohammed) Feat Dennis Brown 3:27
4. Just Out Of Reach 3:16
5. Stand By My Woman 3:54
6. Top Ten 3:33
7. Tragedy 3:12
8. Mr. Pop It Off 3:26
9. God Bless Our Love 3:56
10. Penny Wise 3:30
11. Cassandra 3:23
12. No Power 3:20
13. So Lonely 3:25
14. Rugged Cross 4:22
15. I Miss You 3:21
16. My Sweet Lord 3:39
17. Left With A Broken Heart 2:50
18. Fret Not Yourself 3:34
19. No One Knows 3:15
20. Don't Give Up 3:27
21. Riding For A Fall 3:54
22. Laba Laba 3:16
23. Tenement Yard 3:27
Sample
Diamond Series Blue - George Nooks
Diamond Series Blue - George Nooks now available in stores and digital download
Tad's International has done it again; they have found another way to keep their listeners real happy. Here comes one of their best productions to date, George Nooks – The Diamond Series. It comes chock full of hits from the man who sounds uncannily like his friend, the late Dennis Brown. The Diamond Series will feature over 40 of Nooks' best songs starting from his early days to his latest releases.

Choosing the songs was a hard task as the producer had a wide catalogue to pick from, but in the end you are getting some of his biggest hits, such as Bubbling Love which went platinum, 40 Leg Dread which was the first major big hit for the singer. Whether it's George Nooks or Prince Mohammed they are one and same and the songs are just as popular with the listeners. Very few people can brag about having two number ones under two different names! But you will get both songs on the same collection which comes with over 40 tracks.

The Diamond Series covers a wide sphere of songs it moves from rock steady, to groovy reggae, from lovers' rock to the inspirational. You get it all in one pleasuring collection. Among the songs that will be featured in the Diamond Series are Tribal War, Left With Broken Heart, Cool Cool Runnings, One Time Daughter, Homely Homely Girl, I Miss You, My Children, Standing By, God Is Always There, Old Rugged Cross, Bridge Over Troubled Water, I Can't Stop Loving You and So Much Love with featured artists like Dennis Brown, JC Lodge and Prince Mohammed.

And as usual Tad's International always have a little 'something extra' for listeners and on the Diamond Series will be a brand new release from Nooks titled 'Stand By My Woman' a poignant love song of regrets about bad treatment and coming to the realization that love is more important in a relationship. Other new tracks that will be on the collection are I Can't Stop Loving You, Rugged Cross and Rest Your Love On Me.

George Nooks The Diamond Series is definitely one that will sit comfortably in the classic collections archive.