The Ultimate 2009
(various artists)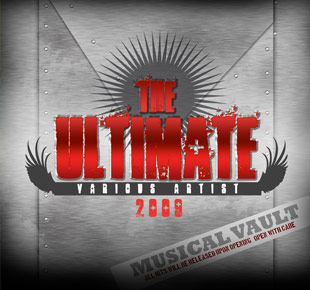 $12.99
Use Paypal and get free shipping

1. Wash the Tears - Gramps Morgan
2. Time and a Place - Buju Banton
3. Time Hard - Gyptian
4. Yuh Nuh Seet - Richie Spice
5. Love is the Answer - Jah Mason
6. Wanna go Home - Romain Virgo
7. Ruff Times - Nico D and Jah Mason
8. Good Love - Wayne Marshall
9. Life - G-Whizz
10. Thousand Miles - Ras Penco
11. More - Higher Tone
12. Mama You Alone - I-Octane
13. Nine Outa Ten - Queen Ifrica
14. Good Life - Chuckle Berry
15. I'm Free - Jah Cure and Jahranimo
16. Forever Yours - Tami Chyn
17. Holiday Inn - Terry Linen
18. Rasta Imposter - Konshens
19. From Morning - Chino
20. I'm Blessed - Vegas
21. Hustle the Money - Vybz Kartel
22. Stack and Pile - Beenie Man
23. Completely - Vybz Kartel

The latest in a series of compilation CDs which list Tad A Dawkins as executive producer, The Hit List is a 22-song offering with quite a number of reggae's biggest tunes.
Sample The Ultimate 2009
The Ultimate 2009 now available in stores and digital download
THE WAIT IS OVER!!!
THAT STATEMENT EMBODIES MY OWN SENTIMENT AS WELL AS THAT OF THOUSANDS OF REGGAE AND DANCE HALL FANS AROUND THE WORLD, WHO NOW HOLD A COPY OF THE ULTIMATE 2009 IN THEIR HANDS.
LAST YEAR¹S (2008) EDITION COPPED MANY AWARDS, INCLUDING THE EME AWARD FOR BEST REGGAE/ DANCE HALL COMPILATION. THAT ACHIEVEMENT, IN ITSELF, HELPED TO HEIGHTEN THE ANTICIPATION FOR THIS YEAR¹S FOLLOW UP AND I THINK IT¹S GONNA LEAVE YOU DIZZY WITH DELIGHT. I PREDICT THAT THE OVERALL RATINGS FOR THIS COMPILATION SERIES WILL GO UP SEVERAL NOTCHES.
YOU¹LL FIND THAT: THIS CD STRIKES THE DELICATE BALANCE BETWEEN SENIOR MEMBERS OF OUR
DANCEHALL MUSIC FRATERNITY AND NEWER ONES.
ROOTS AND CULTURE REGGAE IS WELL REPRESENTED. THE MAJORITY OF THE SONGS ARE EITHER CHART TOPPERS OR CHART BOUND. ARTISTICALLY, IT OFFERS A GOOD BLEND THAT WILL LEAVE YOU SPELLBOUND. OVERALL, THE PACKAGE IS POWERFUL AND EXCITING AND YOU¹LL HAVE A LOT OF FUN, WHETHER YOU¹RE PLAYING OR LISTENING TO EACH TRACK.
THE SONGS ON THE ULTIMATE 2009 WERE CREATED BY SOME OF JAMAICA¹S MOST POPULAR PRODUCERS AND BEAT MAKERS.
SO, TAKE IT FROM ME, THE SONGS ON THIS SET ARE TRUE GEMS THAT WILL STAND LIKE MONUMENTS UPON THE LANDSCAPE OF 20TH CENTURY REGGAE AND DANCEHALL, DEFINING THE ARCHITECTURE OF THEIR TIMES, AND ULTIMATELY INSPIRING THE CAREERS OF COUNTLESS OTHERS TO DO LIKEWISE.
LET THE MUSIC PLAY!!!!